Caden and Craig by the Price River
We are the proud parents of seven children and six grandchildren in our blended family. Craig's kids are: Robert Mustoe (1979), currently in Germany in the military, he is the father or Riley and Autumn. Katrina (1981) recently married James Cameron and is in Italy after graduating with her Master's in Architecture. Daniel Mustoe recently married Brandi and they have a new little daughter Keira. He works at on the oil rigs in Pennsylvania and commutes back to Grand Junction, UT every 2 weeks. Sarah Mustoe is currently enrolled in Utah State College in Logan after completing a LDS mission in South Dakota.
Jennifer's sons are Nathan Kelly, (1977) who until his recent passing lived in Portland. We miss Nathan very much. Matthew Kelly, (1979) lives in Mercer, PA and he and his girlfriend Eileen just had their second child, Sage. Their older son, Aeden, was born in May 2004.
Together we are the proud parents of Caden Mustoe, (1996), who is truly a wonderful child. Our guess is either the Lord blessed us with an easy child for us in our 'mature' years, or we've sufficiently screwed up our other kids and learned from our mistakes. Caden enjoys the horses with his parents and shares the horses in the pasture with his best friends Maren and Cameron.
Hank and Caden and our niece Samantha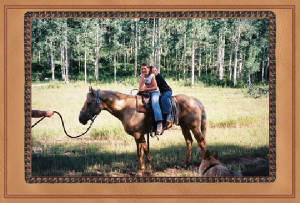 Summer '03~~Utah Mountains
Sarah and Katrina
At Graduation, May 2004
Sunny and foals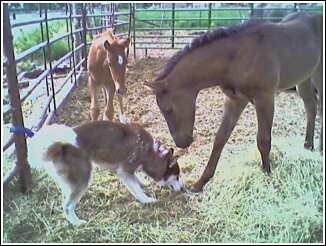 Eileen and Aedan on PJ, Jan '05
We, Jennifer, Craig, and Caden Mustoe are members of the LDS Church, and feel that having horses is a special blessing from our Heavenly Father. We have committed to not only promoting and raising healthy, well-bred, gently-handled horses, but also try to share these great animals with friends and family whenever possible. Please contact us about our Family Home Evenings and Saturday afternoon visits!

We also would be happy to share our beliefs with any who are interested, so please don't hesitate to contact us about the LDS church.